CLOUD BACKUP SOLLUTION
Are you prepared to loose all your data?
By combining enterprise-class technology with outstanding support and customer service, we take the stress out of protecting your data.
How does cloud backup work?
Cloud backup is the process of protecting your organisation's data by encrypting information and sending it over the internet to a secure offsite server. Backing up to the cloud mitigates the risk of onsite threats like fire, flood, hardware issues, user error and most commonly now – ransomware. Our service involves installing a small piece of backup software on your computer or server which sends your data securely, via an internet connection to our secure data centre. This is performed automatically each week or as many times as you wish.
Is cloud backup secure?
At BackupVault we take your privacy and security very seriously. With our secure cloud backup solution, your data is encrypted on your PC/server with the encryption key known only to you.The encrypted data is transferred over the Internet to our secure servers where it remains encrypted ready for rapid restoration. Our datacentres are also state of the art with numerous physical security measures in place.
Why do organisations use cloud backup?
It's secure, completely automatic and offsite. It is also easy to use and requires very little user intervention. You will never again need to remember to change tapes or disks – everything "just works". As the cloud backup service is completely managed we will do all the hard work for you. We also offer telephone and email support as standard.
Efficient, secure back-up that you control.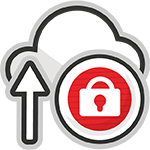 Manage the back-up schedule and restoration yourself.

Intuitive and easy-to-use interface.

Just install the application to automatically back up all your data.